Explore Faculty-Led, Service-Learning, and Professional Development Programs in Nepal
Namaskara! With some of the world's highest mountain ranges, tallest grasslands, and deepest gorges, Nepal is blessed with unparalleled natural beauty.
Enquire Now
Nestled between giants like China and India, Nepal is a little landlocked country that takes pride in having some of the world's highest mountain peaks (Mount Everest), highest (Tilicho) and deepest (Phoksundo) lakes, and deepest gorges (Kali Gandaki). It also boasts 8 of the world's 10 highest mountain peaks, known as "Eight-thousanders" for having an elevation higher than 8000 meters above sea level. Nepal is one of the few nations in Asia that was never colonized by any country. Lumbini, a small village in Nepal, is the birthplace of Gautam Buddha. However, Hinduism is the predominant religion in Nepal, with more than 80% of the population being Hindu.

Nepal is one of the hardest-hit nations by climate calamities. Natural calamities like frequent floods, earthquakes, landslides, etc. pose a great challenge for Nepal. However, to mitigate the impacts of climate change and other challenges like poverty, Nepal is committed to the UN SDGs, and this commitment has been reaffirmed in key policy documents such as the current 15th Development Plan and the 25-Year Long-Term Vision 2100 that internalizes the Goals. The UN in Nepal works with key institutions like governments, the private sector, civil society, and citizens to make sure that Nepal's commitment to the SDGs is translated into practice.

Nepal's economy is mostly based on agriculture, but tourism is one of the industries that is growing the fastest. Not only has it always been one of the most desired destinations for hikers, but in the 1960s and 1970s it also got popular among the hippies who were seeking enlightenment. Its other attractions, like the Annapurna Trekking Circuit and UNESCO World Heritage Sites like Lumbini, Sagarmatha National Park, etc., make it a popular and sought-after destination for tourists from all corners of the globe.
We Deliver Different Types of Programs in Nepal
Faculty-led programs in Nepal are a curated blend of intellectual and cultural experiences based on unique and relevant themes. We collaborate with the faculty to arrange engaging and pertinent organization visits, lectures by subject matter experts, and cultural experiences. The program's goal is to help students achieve faculty-envisioned learning objectives while creating meaningful experiences for themselves. The faculty-led programs can either be available as custom or featured programs, depending upon the requirement of the institution.
Service-learning programs in Nepal engage the students in applying their knowledge and skills to projects that aim to improve community life and advance the UN SDGs. The programs are enhanced by interactive workshops, design-thinking activities, hands-on fieldwork, and facilitated reflection sessions. They also enrich the participants' lives on all four dimensions- physical, emotional, intellectual, and spiritual. The service-learning programs can either be available as custom or featured programs, depending upon the requirement of the institution.
Professional Development Programs in Nepal provide opportunities for professionals to develop a leadership mindset and a global perspective. It helps them not just be in sync with times but be one step ahead. These programs give the participants exposure to innovative and efficient models that local organizations, governments, and institutions use. These immersive experiences inspire them to form new ideas and insights that they can apply to their own work and deliver more efficient and effective outcomes. The professional development programs can be customized to meet the objectives of the institutions.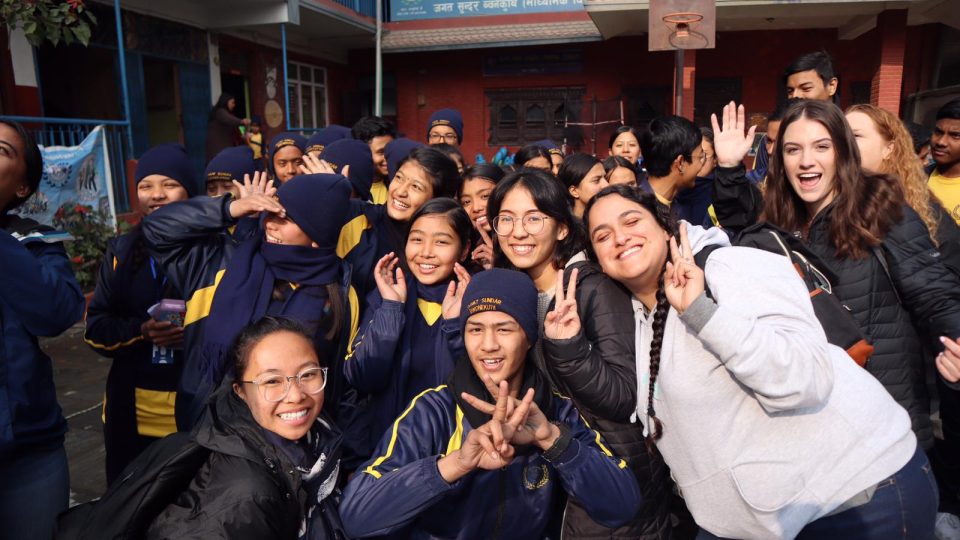 Diversity & Inclusive Education in Nepal
Innovations in Sustainable Development
Whether you want to hike in the mighty Himalayas or explore the UNESCO World Heritage sites,
Nepal's stunning natural and man-made beauty is sure to inspire and enchant you.
What Our Students and Faculty are Saying
"I've never been outside of the US before, so I really wanted to get out and study. I took a leap of faith in choosing Nepal because I really didn't know much about this country. In this study tour, I have learned a lot that I can definitely take back home and apply in my life. The hands-on experience of going to different places and interacting with different communities has taught me a lot that I wouldn't have learned in the classroom. Especially the trip to the village has been such an unforgettable experience. It was amazing seeing these people who live a very different lifestyle and still being so open, so kind, and welcoming; it just warmed my heart."
"The visit to the village in Nepal that was so far removed from anything that I am used to or comfortable with, was one of the most memorable experiences of this program. But I didn't find myself uncomfortable, it was nice to experience a culture that is so different from ours and to see how happy they were with it. Back home people are busy, they have stress and anxiety but here they didn't have any mental health issues, they just seemed happy with what they had. And Authentica felt like an extended family. We knew that we can come to you if we are feeling sick or sad. You guys have made a great environment for students to feel comfortable and safe."
"I have never been out of the country (USA) before, so by going abroad I was hoping to open my horizons and see what's out there. We met and interacted with a lot of local people in Nepal on a personal level so I observed that culturally the barriers that I had thought had existed didn't really exist."
Like Nepal? Explore Others as Well
If you are interested in learning more about our academic programs or wish to request a proposal, please fill out the "Enquire Now" form.
We will get in touch with you shortly and would be more than happy to answer any questions you may have.
If you feel ready to take the plunge, just hit on "Apply Now" and get
ready to take your life and career to the next level.