We are an academic program provider for expertly curated short-term, experiential learning programs across and beyond Asia. While we cater to various disciplines, advancing UN SDGs through our academic programs has been our key focus. Our strength lies in providing regional expertise and opportunities that create meaningful experiences.
We design our programs using a unique enrichment model that delivers growth on all four dimensions of our being: physical, emotional, intellectual, and spiritual.
Since 2013, we have delivered over 110 programs for over 3,200 participants from institutions in the United States, Canada, and Australia.
We provide impactful and relevant custom and featured programs
that stimulate holistic growth and inspire next-gen leaders to create a global impact.
We carefully hand-pick the locations that have the potential to enrich lives through meaningful experiences,
thus transforming your perspective on the world.
We engage with a wide array of disciplines that will allow you to get hands-on experience and apply classroom learning in real-world settings, thus getting a deeper understanding of the subject. 
Our Institutional Partners
Testimonials From Our Happy Family
"We look for a partner who is incredibly trustworthy and able to handle logistics for the region, and someone who understands the programming and content we want to develop. Authentica has been a fantastic collaborative partner in the design and creation of high quality content, visits and cultural activities.They have provided our students with experiences that will stay with them for the rest of their professional lives!"
"I was selected for a marketing project in the sustainable real estate space, which I had no prior experience in. But the consulting toolkit training we received helped our team structure our approach and develop an effective work plan to solve the challenge. Authentica has been with us at every step of the way, guiding us in the right direction and helping us to align our work with client expectations. They have been super organized throughout the internship!"
"Authentica's attention to detail and logistics is communities and NGOs like Bhagirath, and they experience of the students, facilitators, and communities are second to none among the experiences that I have had on this trip. And I really commend the way that they go about their work, the relationships they put in with make our life incredibly easy and as well as providing an enjoyable experience."
"The experience was amazing and one I will never forget thanks to the skilled and friendly people at Authentica. The activities and adventures organised were executed smoothly and were enjoyed by us all. We learnt so much from the homestay experience and I am grateful that Authentica could make that experience possible for us. I would strongly recommend them to anyone looking to get the most out of their stay in India."
"The Authentica team was a pleasure to work with for our short-term faculty-led program in India. The services were customized to fit our itinerary and everything went according to plan. The guides were hand-picked, hotels and sites were carefully vetted, and no detail was left unmanaged. The team was on-call to assist with any issues even including retrieving lost items and dealing with illness within the group. I strongly recommend Authentica!"
"I found the experience life-changing. The homestay experience opened my perspective on so many things and it is something I will always remember for the rest of my life. None of it would have been possible without the seamless organization and operation by Authentica. Every Authentica team member that I interacted with were very friendly and helpful."
"Authentica is one of the best partners I've worked with on international programs. Bringing policy and business leaders to India could've been a real challenge, but Authentica delivered outstanding results by understanding our objectives and talking us through wellresearched proposals. I was impressed by their professionalism and passion for delivering culturally authentic experiences - and they are fun too!"
"In terms of on-ground support, Authentica was amazing. We could really focus on teaching and supporting students, rather than spending too much amount of time worrying about logistics. Authentica did what they are best at and provided a good experience for our students."
"Our group included 35 North Carolina school teachers who had never been to India, several of whom had never been outside the United States. They were all understandably a bit nervous about going to India! But, the Authentica team, with their warmth, professionalism and knowledge, put our delegation at ease from the moment they met us at the airport. Their care with logistics and programming made for a wonderful, transformational experience for everyone. We are all so grateful."
"Excellent attention to detail and anticipation of our needs on the ground. You had arranged for some really enriching cultural experiences for our students, like henna and the cricket with locals. But you also understood the academic aspect of the program and the learning opportunity. I think you got the balance between fun and learning just right."
"The biggest take away of having been in a tour with organized visits with Authentica is the access to companies and speaking with CEOs and founders of different companies in both India and Singapore about what they are doing for their own country and society. It's a way to learn more about local people, local businesses and even local government and thanks to Authentica we got to experience that, which have never experienced before in my life."
"Authentica did a phenomenal job working with internship host companies to identify and scope projects that addressed company challenges and leveraged our unique backgrounds. They know the region well, have a great network, and are incredibly well organized - this helped us get to know the REAL India."
Share Your Moments on Social Media using #AuthenticExperiences
Custom Programs For Universities
We also offer custom-made programs, designed to meet your institutional goals. Our Faculty-led Programs, Group Internships, and Service-Learning Programs can be customized to meet your requirements. 
With every program, we guarantee unique enriching experiences, regional expertise, seamless communication, prompt responses, health and safety, and meaningful interactions. If you are looking for a tailored program for your institution, fill out the form below and we will get in touch with you shortly.
Dive deep into your world and understand how you can grow, be happy, and create an impact through study abroad programs.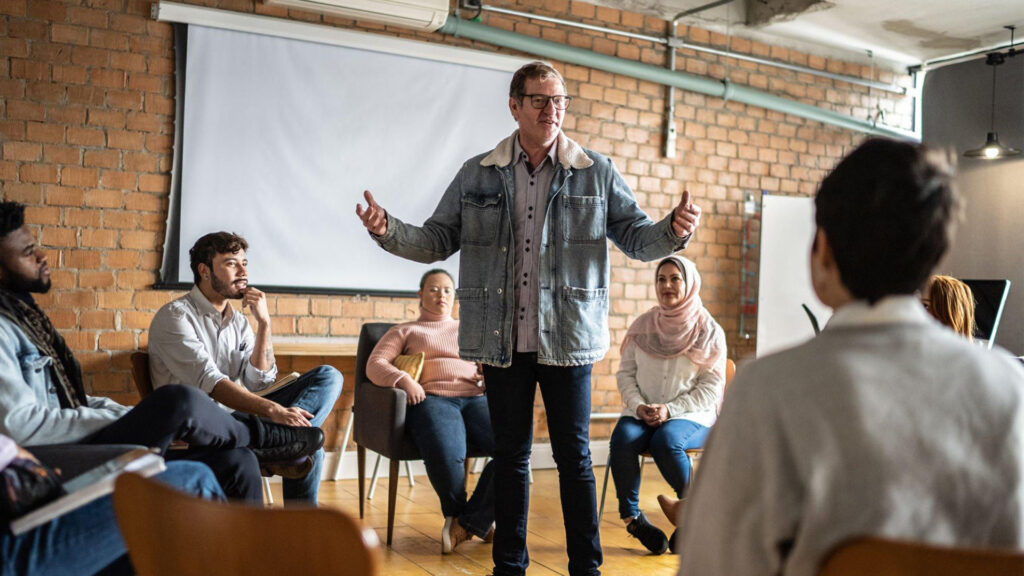 In this article, we explore the significance of mental health support in study abroad programs and how to provide effective assistance to participants to ensure a successful program experience.
If you are interested in learning more about our academic programs or wish to request a proposal, please fill out the "Enquire Now" form.
We will get in touch with you shortly and would be more than happy to answer any questions you may have.
If you feel ready to take the plunge, just hit on "Apply Now" and get
ready to take your life and career to the next level.