Explore Custom, Faculty-Led Programs in Japan
Konnichiwa! With its economy, technology, and innovation constantly on the rise, Japan has truly positioned itself as a global powerhouse.
Enquire Now
Japan, with the third-largest economy in the world, is an island where ancient wisdom embraces cutting-edge innovation. High-rises exist next to historical structures, temples, and shrines, and a deep relationship between past and future is an integral part of culture and society. More than 200 years of isolationism (Sakoku), a period when trade and relations between Japan were severely limited, have significantly contributed to its cultural traditions such as haiku poetry, kabuki drama, tea ceremony, cultivation of bonsai trees, and more.
Japan has a highly developed and sophisticated market, characterized by advanced industries such as automotive, electronics, and machinery. Japan is also known for its precision engineering, high-quality manufacturing, and cutting-edge research and development. Japan is also at the forefront of advancing the UN Sustainable Development Goals. From providing financial assistance for supporting SDG-related projects in developing countries to leveraging its technological advancement in areas such as renewable energy, clean technology, and disaster management, Japan has made significant contributions to support the achievement of goals.
Japan's capital city, Tokyo, is the most populous city in the world. Despite that, you will find Tokyo spotless and litter-free. The city's pristine cleanliness is a testament to its remarkable commitment to cleanliness and the strong cultural values in its society.
Japan has a rich and vibrant pop culture that has been gaining popularity worldwide. Japanese animation (anime), comic books (Manga), and J-Pop and J-Rock have become global phenomena. Japan's breathtaking beauty, such as cherry blossom-filled parks or historic temples, captivates the senses of locals and visitors alike. However, the beauty of Japan resides not only in its natural landscapes but also in its people, who exemplify grace, humility, and an unwavering commitment to excellence.
We Deliver Different Types of Programs in Japan
Faculty-led programs in Japan are a curated blend of intellectual and cultural experiences based on unique and relevant themes. We collaborate with the faculty to arrange engaging and pertinent company visits, lectures by subject matter experts, and cultural experiences. The program's goal is to help students achieve faculty-envisioned learning objectives while creating meaningful experiences for themselves. The faculty-led programs can either be available as custom or featured programs, depending upon the requirement of the institution.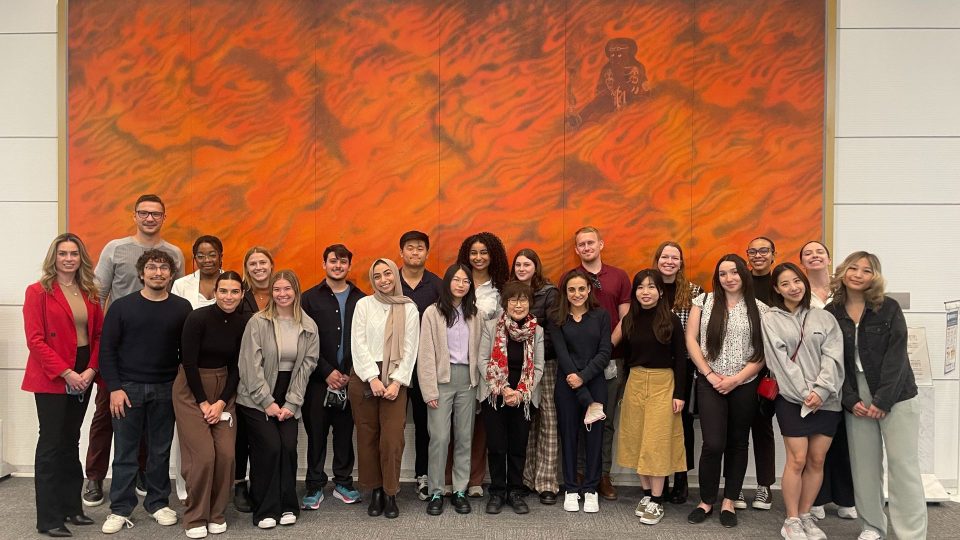 Mental Health, Counseling and Education in Japan
Innovations in Sustainable Development
Whether you want to experience the vibrant energy of Tokyo and Osaka's neon-lit metropolises or revel in the tranquil beauty of Mount Fuji or Zen garden, Japan offers an array of unforgettable experiences.
What Our Students and Faculty are Saying
"The highlight for me was how the program enabled us to witness both sides of the UAE, the traditional as well as the modern. I was mind blown by how the futuristic Mazdar city was built and loved riding in the driverless bus. I also loved shopping in the spice and gold souks. It was a reflection of old Dubai."
"I will be working in the pharmaceutical marketing field in future after graduating. I want to be in a global role at some point in my life. So, I found this trip very relevant. We visited a lot of pharmaceutical companies and hospitals and witnessed the patient as well as the pharma rep experiences. I believe this exposure is going to be instrumental in my career."
"This is my first time in Asia, and I thoroughly enjoyed visiting China and Japan. I loved the onsens (hot springs) near Mount Fuji. It was cool to learn about the process of the onsen and how it's part of the traditional Japanese culture. It was also really relaxing to do this as the program's last day activity. I haven't been in a hot spring before and now I am having a zen-like feeling especially after long and busy trip."
"Japan is like a time machine to the future. You can see their advanced technology in almost everything. Their bullet trains, appliances… everything is so futuristic there. But at the same time, I really loved how they also hold on to their ancient culture. Their zen-like temples were so meditative, I instantly felt so peaceful there. I am so glad I could have first-hand experience of this amazing country."
Like Japan? Explore others as well
If you are interested in learning more about our academic programs or wish to request a proposal, please fill out the "Enquire Now" form.
We will get in touch with you shortly and would be more than happy to answer any questions you may have.
If you feel ready to take the plunge, just hit on "Apply Now" and get
ready to take your life and career to the next level.