International Trade and Business in Dubai
Innovations in Sustainable Development
Dubai's growth story, like that of Singapore, is linked to the British. Dubai's fortuitous position in the Persian Gulf made it important for the East India Company to secure safe passage for its ships sailing between the UK and India. And they did it through agreements with local sheiks, most notably the Al Maktoum family, which still rules Dubai today. The Al Maktoum dynasty combined towering ambition with clever strategy to transform a small fishing village into the megapolis that it is today. These strategies included important steps such as removing income tax to attract businessmen to the city, building skyscrapers to attract international attention, or encouraging secularism despite being a Muslim city so people of all nationalities could feel comfortable. Dubai's evolution into a global business powerhouse provides a compelling subject for business students to analyze the nation's strategic initiatives and accomplishments.
Visit companies representing Dubai's major industries, including financial services, real estate, tourism, consulting, transport, etc.

Alumni meetups; informal chats with expats at companies visited.

Dhow cruise for the welcome dinner.
Dune safari and traditional meal at a desert camp.

Visit SMCCU for a traditional lunch and cultural discussion.

Visit a mosque.

Walk through the souks (marketplace).
Featured Cultural Experiences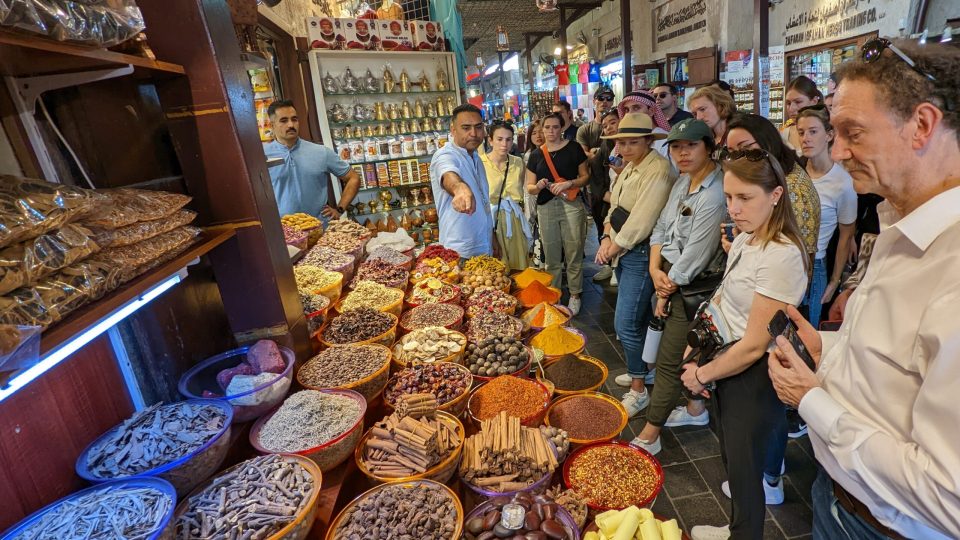 Cultural Immersion in Dubai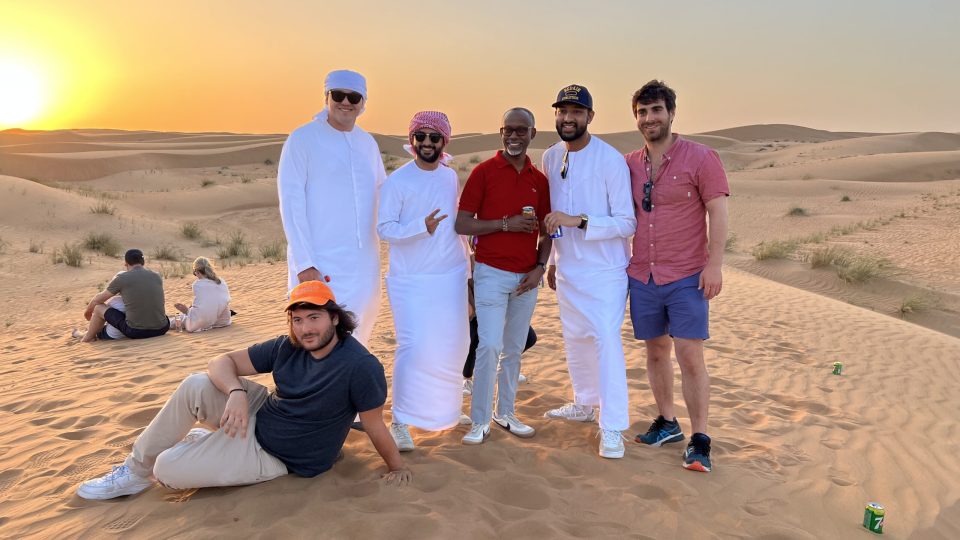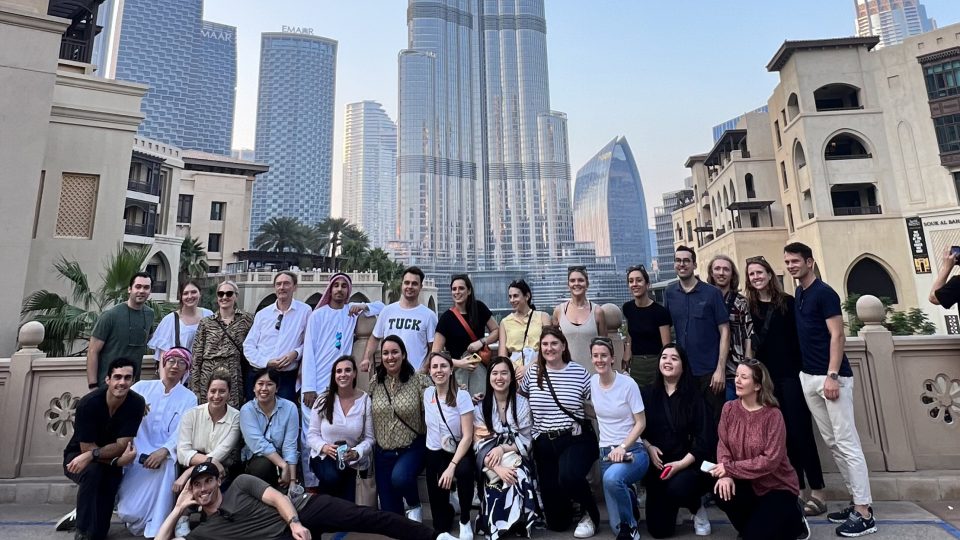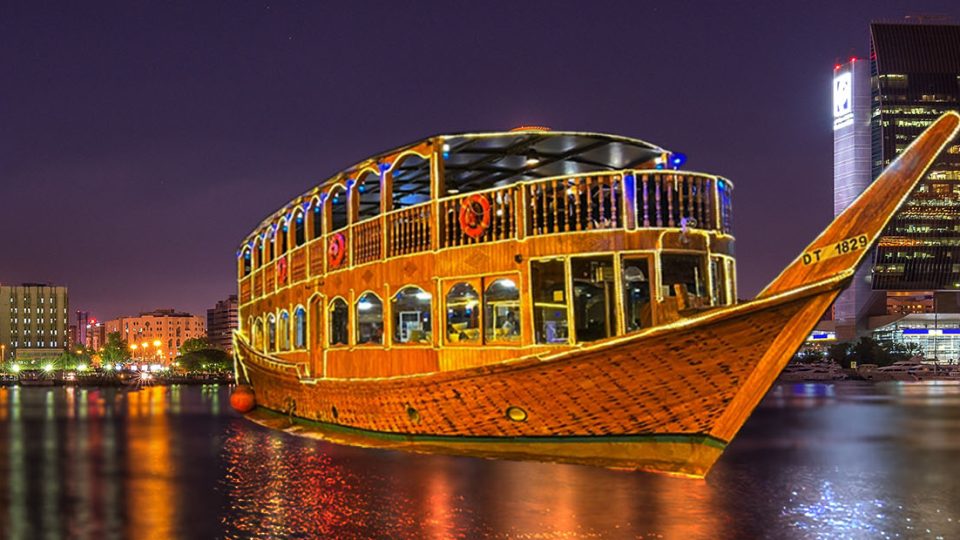 Welcome Dinner on Dhow Cruise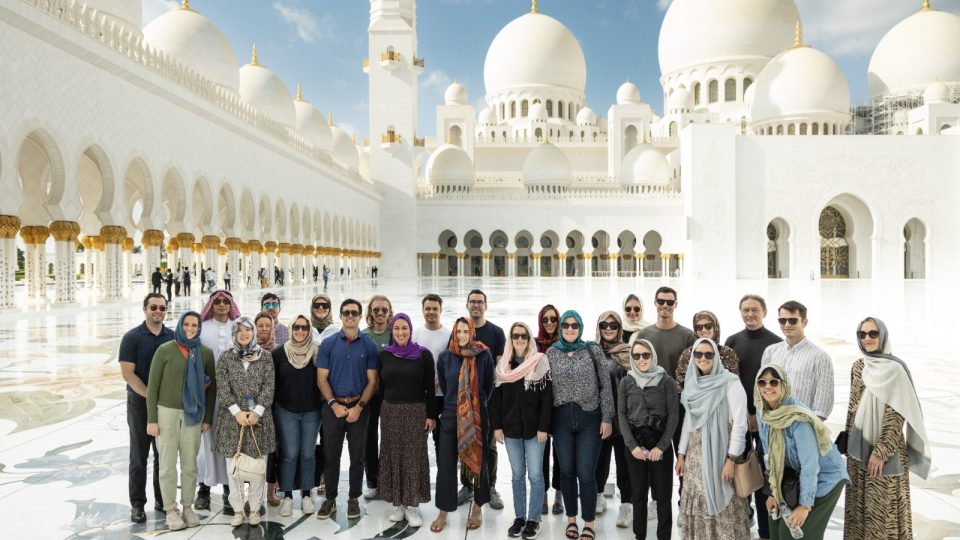 Cultural Immersion in Abu Dhabi (Optional)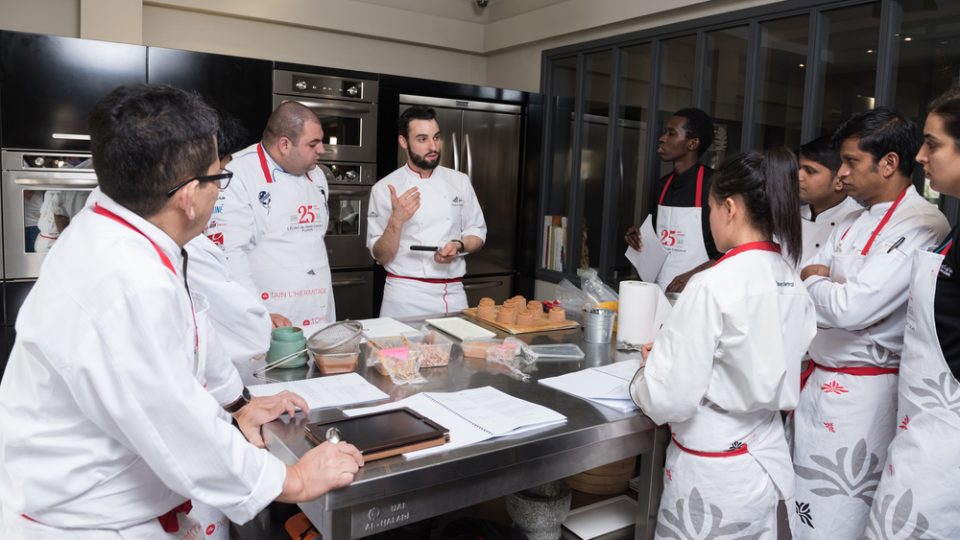 Arabic Cooking Class and Private Yacht Cruise (Optional)
Students are grouped into 3-6 per team; teams are assigned a topic to research, which they present to the rest of the group. Some recommended topics include:
About the country: present before departure.
About the city: present upon arrival, right after orientation & safety briefing.
About individual visits: present before visiting the person/organization.
Students are grouped into 3-6 per team; each team is presented with a challenge question, identified either by the faculty or by the organizations visited; teams do research and present findings to an audience (including organization if the question was from them).
Day 1: Arrival in Dubai
Arrival in Dubai, group transfer to hotel and check-in
Day 2: Dubai Cultural Immersion + Welcome Dinner
Full day guided immersion of Dubai; Welcome dinner on the Dhow Cruise
Day 3: Company Visits + Visit to Burj Khalifa
Company visits followed by guided visit of Burj Khalifa (incl tickets to 124th floor)
Days 4-6: Company Visits + Free Evenings
Full day company visits; Free evenings
Day 7: Company Visit + Desert Safari + Farewell Dinner
Company visit (morning); Desert safari (afternoon); BBQ farewell dinner in the desert (evening)
Day 8: Cultural immersions (Optional)
Option 1- Abu Dhabi cultural immersion (Sheikh Zayed Grand Mosque, Qasr Al Watan, Louvre Abu Dhabi)

Option 2-Arabic cooking class and private yacht cruise
Day 9: Departure
Check-out; Transfer to airport
(Twin-sharing cost; based on a group size of 30+2)
*Please note that the cost of our programs may vary depending upon several factors, including but not limited to the size of the group, program inclusions, the number of program days and more. Kindly contact us for a customized quote that suits your specific requirements.
Additional cost for the optional cultural immersions is as below:
Option 1 – Full day Abu Dhabi immersion: $95/person (includes coach, guide, all entrance fees, and lunch)


Option 2
 


Morning (10am-1pm): Arabic cooking class ($120/person); includes lunch
Afternoon (3-6pm): Exclusive sunset yacht cruise for 3 hours around Dubai Harbor ($90/person)

 
Option 2 activities include a coach and guide for the whole day.
AC Coach for business meetings, tours, and airport transfers as per schedule (incl. taxes, tolls, parking, 2 water bottles/day/person)